The ongoing gubernatorial tussle between the Reform and Advancement Party (RAP) and its candidate in the March 2019 governorship election in Imo State, Barrister Kingdom Okere in their quest to remove from office, the Executive Governor of Imo State, Senator Hope Uzodinma through legal action has come to an indefinite halt as the case was withdrawn from the court as Okere filed for discontinuance.
The application which was titled 'THE INTERPRETATION OF SECTION 177 (C) OF THE CONSTITUTION OF THE FEDERAL REPUBLIC OF NIGERIA 1999 (AS AMENDED)' filed by Barrister Kingdom Okere and the RAP challenged the legibility of the APC candidate being declared the winner of the 2019 gubernatorial elections on the grounds that he was not a legal participant.
Mr Kingdom had said that the suit was predicated on the judgment of the Supreme Court which affirmed Uche Nwosu as the duly nominated 2019 Imo governorship candidate of the APC. He also reiterated that one of the issues he wanted the court to determine was whether Mr Uzodinma lawfully participated and was sponsored by the APC to contest the 2019 Imo governorship election in accordance with Section 177 (c) of the 1999 Constitution.
'This is having regard to the tenor, clear and unambiguous legal implications/consequences of the judgment of the Supreme Court of Nigeria in appeal no: SC/1384/2019 which upheld the decision of both the Court of Appeal and the Federal High Court and affirmed Uche Nwosu as the authentic and duly elected/nominated 2019 Imo State governorship candidate of the APC.'
But on the 24th of September as can be seen on the document, the plaintiffs (Barrister  Okere Kingdom Nnamdi and the Reform and Advancement Party (RAP) filed a Notice of Discontinuance before the case could be heard on 29th September thereby quashing the case.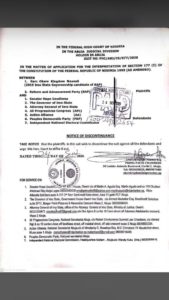 AFRICA TODAY NEWS, NEW YORK