In a country where the average life expectancy is usually between 47 and 49 for both men and women respectively for numerous reasons, hitting 60 years of age is worth celebrating. It's actually a milestone and those who have the wherewithal usually leave no stone unturned in throwing a birthday bash to mark it. The celebration, at 68, inching gradually towards the 7th floor of life, is even worthier and therefore deserves huge celebration when the celebrant defied all odds to survive the beast that breast cancer is when she was just beginning to actualise her manifest destiny in life.
The foregoing fittingly captures the wonderful personality of Mrs Betty Akeredolu Arabinrin (Ada Emeabiam II), the Ondo State First Lady, who clocks 68 on Monday. She has, indeed, come a long way celebrating three scores and eight with stories of survival, resilience, grit and undying faith to boot.
Read Also: Owerri Zone Administrators Congratulate Governor Akeredolu
As she celebrated her birthday yesterday, many friends and wellwishers sent in their congratulatory messages and felicitations including the Owerri Zone group. The group which is a socio-political organisation established by Owerri indigenes in Nigeria and in the diaspora which advocates for good governance in Imo state particularly and Nigeria generally sent their congratulatory message to the First Lady of Ondo State, Her Excellency, Mrs. Betty Akeredolu, who incidentally hails from Owerri is also a member of the group.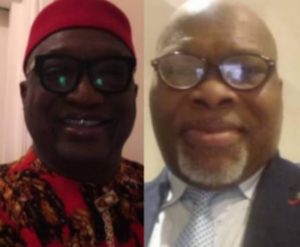 They lauded the amazon on her numerous achievements in Ondo State and in the whole of Nigeria. They also appreciated her numerous efforts at making lives better for the girl child, for humanity at large with her many humanitarian projects which have been aimed at giving women and youths an equal fighting chance in life.
While pouring more encomiums on her, Chief Better Ekeh and Barrister Eddie Ajoku highlighted one of her major projects which was her breast cancer eradication non-governmental organisation as one of the trailblazers of other organisations in Nigeria and Africa at large:
'Her resolution then to fight breast cancer to a standstill in the country was what led to the creation of Breast Cancer Awareness in Nigeria (BRECAN), Nigeria's foremost, a non-governmental organization in the forefront of raising awareness about the scourge of breast cancer. Beyond creating awareness about the disease, BRECAN has also singlehandedly undertaken research about the ailment aside from pooling resources to help those suffering from it get timely and quality and affordable treatment heavily subsidised by the organisation.'

'At 68, and despite having crossed many life-threatening hurdles in life, Mrs Betty Anyanwu-Akeredolu remains a jovial, smart, intelligent, wife, mother, grandmother, feminist, gender activist, politician and public commentator of note. She does not look like someone who will quit the stage soon as she has got many more altruistic services up her sleeves to render to the public. Happy birthday, Nne.'
AFRICA TODAY NEWS, NEW YORK