Are you a conscious individual with an unquenchable thirst for thought-provoking films, literary blockbusters, and mind-blowing creativity? Do you seek movies that address the palpable situation of things in Africa? Do the happenings in Africa leave you in awe and you might be needing answers to the mountain of questions on your mind? Are you passionate about understanding the exact situation of things and how they can be alleviated or possibly erased? A solution is almost at your doorstep. Grabbing it with open arms is million-dollar advise you would remain grateful for.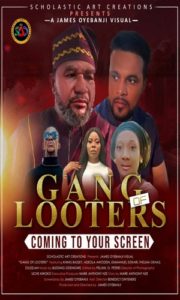 'Gang of looters' is set to do the magic! Not only will it keep you rooted to your seat and leave you in awe, it will be an eye-opener that could not have come at a better time. It leaves for the generally unaware individual, an insight into the inner echelons of governance as they are applicable in Africa. An expose extraordinaire. There is more to this movie than regular entertainment.
'Gang of Looters' which was adapted from Dr. MarkAnthony Nze's international novel is what Africa and Nigeria need right now. Driving change and development in a terribly governed Africa would only remain wishful thinking if films and literary works like this do not get to assume their rightful place in engineering the minds of people to demand good leadership.
Read Also: Best political fiction: Gang of Looters
The thriller dropped recently and it has generated so much curiosity as people can't even wait, the truth remains that the film is certainly worth every bit of hype it is getting at the moment. The suspense-filled blockbuster which is set to be released all around Nigeria and Africa would thrill viewers and leave them begging for more.
In the film, the viewer would be shown how a country abundantly blessed in natural resources, particularly oil, is being ruled and rapaciously looted by a mafia-like gang who call the shots in the land deciding who lives and who doesn't as well as who gets what and who doesn't. Governor Kuala Bodega is caught between fighting to save his vulnerable life and trying to redeem the image of his State and get the country away from the bondage of the greedy Chief Timbabu. Bodega wouldn't have it easy as his foe is a formidable one who boasts of the loyal ears of everyone added to his army of ruthless foot soldiers. How well would Bodega fare in this risky but game-changing mission? Would he be smart enough to pull a surprise or would he go the way of his predecessors to abyss? You would soon find out!
Produced by Scholastic Art Creations and directed by award-winning director, Omoba James Oyebanji, the soon-to-be-released movie would get you to the edge of your seat as the genius story-spinning, highly entertaining classic work takes center stage.
Popular actors from Africa such as Khing Bassey, Adeola Awodein, Emmanuel Sokari, and Thelma Okhaz delivered their usual best right there, and believe it, Nigeria and Africa would be watching something different from the norm.
Literary icon Dr. Nze, who authored the book, 'Gang of Looters' also doubles as the Executive Producer of the film, and quite synonymous with his style, he delivered pure class. Get your popcorn and drinks ready, its almost here, and trust Africa Today News, New York the wait would be worth it.
AFRICA TODAY NEWS, NEW YORK